Flawless curls without damaging your hair
Achieve stunning curls without the frizz and heat damage. Lightweight and comfortable, our little set has all you need to make effortless bouncy curls that lasts up to 3 days.
Made from the highest quality 100% mulberry silk, this heatless curler set will give you beautiful, effortless curls without heat damage.
Protect your hair from heat – Traditional curlers cause significant damage to your hair which can worsen over time.
Silk prevents frizz – Silk's smooth texture reduces rubbing on the hair to help prevent split ends.
Hydrated hair – Mulberry silk is less absorbent than other materials like cotton, which means that it helps to keep your hair hydrated when using overnight.
Innovative design – Our curler ribbon has a special slim-fit design, which differs to other heatless curlers. It is lighter and it sits more flat against your head, making it more comfortable when you sleep with it overnight.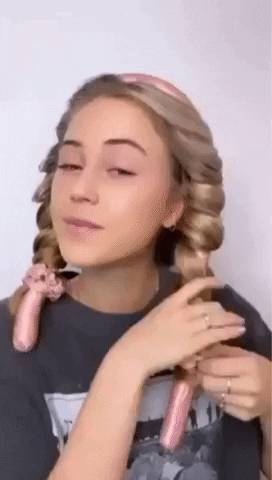 How To Use It?
This process typically takes under 5 minutes:
1. Dampen hair & secure ribbon – Lightly dampen your hair and place the ribbon at the top of your head, securing it with the claw clip.
2. Twist hair – Beginning at the top of your head, twist your hair around the ribbon, incorporating more hair in the twist as you move down to the ends of your hair.
3. Wait! – Secure the ends with the scrunchies and repeat on the other side. You can leave in for two or three hours in the daytime with slightly wet hair or sleep with it overnight with slightly damp hair or dry hair.
4. Reveal gorgeous curls! – Remove the scrunchies and lift the ribbon up, shaking out your curls as you lift.